Rassegne 2017
Kustendorf Film and Music Festival
The Tenth International Film and Music Festival Küstendorf is held on 14-19 January, 2017 in Drvengrad on Mokgra Gora. The Festival is organized by the production company Rasta International under the auspices of the Ministry of Culture and Information of the Republic of Serbia, town Me?avnik and The No Smoking Orchestra. As in the previous years, Küstendorf is dedicated to emerging filmmakers and the greats of world auteur film.
22/04/2017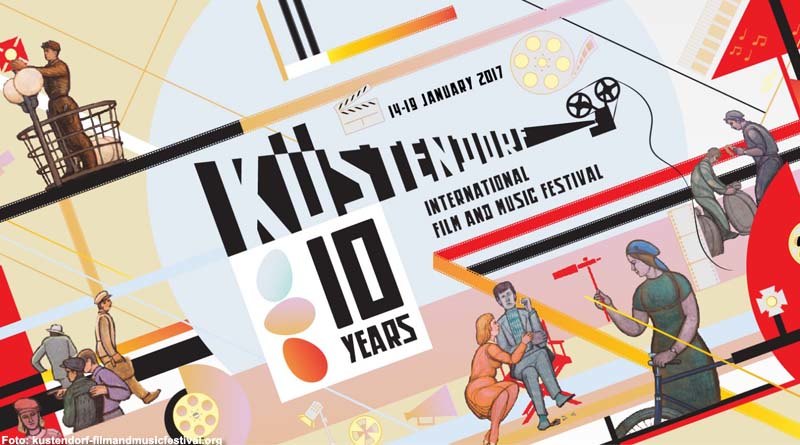 COMPETITION PROGRAMME – The Competition Programme of the Tenth International Film and Music Festival Küstendorf includes twenty two films by local and foreign authors. Films by young directors from Bulgaria, Denmark, Israel, Iran, Lebanon, Hungary, Moldova, Nepal, Portugal, Russia, Singapore, Republika Srpska, Serbia, Ukraine, Hong Kong, Montenegro, Chile, Switzerland and the Philippines are competing for the festival awards – Golden, Silver and Bronze Egg. International jury members include Geling Yan, writer and screenwriter, Christian Valsamidis, expert in entertainment industry law and cinema economy, and Nikola Ležai?, director. The Vilko Fila? award for best photography will be awarded by István Borbás and Michel Amathieu, directors of photography.
CONTEMPORARY TRENDS show some of the best films from the previous year. These films will be presented by their authors – festival guests – at workshops following film screenings. This Küstendorf will show The Woman Who Left directed by Lav Diaz; In Bed with Victoria directed by Justine Triet and represented at the Festival by actress Virginie Efira; Flowers of Evil by Finnish director Antti Jokinen, awarded Best Director at the Shanghai Film Festival; De Lan, winner of the Shanghai Film Festival and directed by Liu Jie; and Soul on a String directed by Zhang Yang. Also, On the Milky Road, the latest film by the Festival's founder, director Emir Kusturica, will be shown at this Festival.
NEW AUTHORS – This Küstendorf programme brings visitors and guests feature films by young authors awarded or nominated at international film festivals. In the previous years, these authors and their short films took part in the Competition Programme at Küstendorf. Director Eliza Petkova competed at last year's Küstendorf, and this year she returns with her feature film Zhaleika awarded the Grand Prix of the Generation 14plus International Jury at the Berlin Film Festival. The New Authors Programme will show All the Cities of the North directed by award-winning young director Dane Komljen; Old Stone, awarded at film festivals in Stockholm and Toronto and directed by Johnny Ma; and Indivisible by Italian director Edoardo De Angelis, winner of four recognitions at the Venice Film Festival.
RETROSPECTIVE OF GREATNESS – This year's retrospective is dedicated to screenwriter Gordan Mihi?, whose work has left a great mark on Serbian cinematography. This programme will show films When I am Dead and Gone and The Rats Woke Up by Živojin Pavlovi?; Crows, directed by Gordan Mihi? and Ljubiša Kozomara, Mechanism by ?or?e Milosavljevi? and Emir Kusturica's Black Cat, White Cat. Also, this programme includes films by Lav Diaz, who is a special guest of this year's Küstendorf.
MUSIC PROGRAMME – Every night after the screenings and the workshops, different bands add flavour to the praised Küstendorf night life. On the first night of the Festival, good atmosphere will be created by Emir Kusturica and The No Smoking Orchestra, Adam Stinga and Novi Sad Big Band. The Music Programme also features renowned blues-jazz guitar player Ana Popovi?, Serbian rock band Van Gogh, and Argentinean-Columbian ska punk band Che Sudaka.
International Film and Music Festival Küstendorf is one of the few festivals creating opportunities everywhere for the exchange of energy between the emerging and the experienced artists, at the same time welcoming acclaimed authors, actors and musicians, numerous young filmmakers and film school students from around the world, and other eminent guests from the world of film.