Rassegne
Hangzhou Asian Film Festival
Hangzhou Asian Film Festival – HAFF, was found in 2009 by a group of young filmmakers who intend for festival to become a celebration of new cinema by emerging young Asian filmmakers.
11/10/2013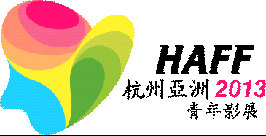 The festival is organized by the Institution for International Film & TV Development of Zhejiang University and Hangzhou West Lake Film Association. The 5th edition of HAFF will be hosted from 18th to 26th, October, 2013 in Hangzhou city, the People's Republic of China.

Mission Statement
HAFF aims to promote and share the most creative and innovative films directed by young Asian filmmakers that are devoted to reflecting the diversity and the complexity of the times we live in. HAFF is also trying to foster the cinematic literacy of local Hangzhou audiences, and is committed to providing an opportunity for cross-border communication for young Asian filmmakers, especially between those based in Mainland China and those abroad.

HAFF wants to be a REAL film festival for the young generation. After four years of hard work we have already established a very solid foundation for further development that will help us to achieve the goal of being a cradle for new Asian cinema.

Programming
The HAFF2013 program is divided into three parts: MAIN PROGRAM, SPECIAL PROGRAM and FESTIVAL EVENTS.

The MAIN PROGRAM is the Shine Asia Shorts Competition; The SPECIAL PROGRAM includes several programs devoted to a diverse selection of cinematic topics, they are Kazuhiro Soda: Asian Filmmaker in Focus, Landscape in Mist: Asia through French Filmmakers and South of South. A Taste of SEA Cinema; FESTIVAL EVENTS include Public Lectures, Shine Asia Awarding Party, Filmmakers' Night and HAFF Contemporary Art Exhibition.

Main organizer
Institution for International Film & TV Development of Zhejiang University
Hangzhou West Lake Film Association
Festival Director: ZHAO Yu
Program Director: SHAN Zuolong

Address
Festival Office, C-208, National Science Park of Zhejiang University, 525# Xixi Rd.,
Hangzhou, 310013, PR.China

Contact
Festival Coordinator – Eason CHEN

Mobile: 0086 136 7156 4173 / 0086 (0571) 87382068
Email: festival@haff.asia
weibo: http://weibo.com/haff
Web: www.haff.asia

HAFF Programs @ Lugano Int'l Film Festival
Curator: Alex Chung

Alex Chung, film producer, Swiss adapted Taiwanese, obtained the degree in engineering in 1995 and the master in design in 1999 in Italy. Since 2010 he was working as intercultural mediator in Lugano, 2011 presenting an editorial initiative, debuted with 4 Max Frisch navels in China, as well curator for various events, Triennale Design week Milano in Lugano, Stephen Kelly photo exhibition, Hermann Hesse anthology of poems in chinese.

Film producer since 2005, "Winter Vacation" produced with Li Hongqi as director won the "Pardo d'oro" at the 2010 Festival del film Locarno. Today 2 documentaries are in progress, and a co-produced Swiss feature film will be released at November 2013.