Rassegne
CLUJ SHORTS
CLUJ SHORTS – International Short Film Festival
01/10/2014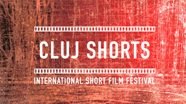 Persona Association is a cultural organisation from Cluj-Napoca, Romania, focused on  performing arts, mainly in the field of theater and cinema. Starting from the idea that art plays an important role in society through educational and cognitive functions, we placed the audience on the same level as the art creator.  We believe the expressive structures  that art creates,  are able to generate and communicate specific and complex emotions, involving – both in the act of creation and in that of the reception- sense, intuition, emotions and intelligence. The experience gained in 10 years of constant activity and has made its mark by originality and professionalism.

L'Associazione Persona è un'organizzazione con profilo culturale di Cluj-Napoca, Romania, che ha un'attività artistica integrata nell'ambito del teatro e del cinema. Partendo dal presupposto che l'arte, come parte della cultura, svolge un importante ruolo in società tramite la sua funzione cognitiva ed educativa, mettiamo sullo stesso livello sia il creatore d'arte che il pubblico; consideriamo che le strutture espressive che l'arte crea sono capaci di generare e di comunicare delle emozioni specifiche complesse dove partecipano sia nel lato del creare che in quello di percepire la sensorialità, l'intuito, l'affettività e l'intelligenza. L'esperienza accumulata in 10 anni di attività costante, ha messo l'impronta tramite la sua originalità e professionalità.

Persona Association organizes CLUJ SHORTS, International Short Film Festival, the first short-film festival in Transylvania. Held each year during the spring months, the festival plans to open Cluj-Napoca's cultural season. CLUJ SHORTS is dedicated directly to short film passionate: film directors or producers and film lovers. By organizing a festival dedicated exclusively to this segment of film, we want to create on the one hand an organized space of expression, competition and exchange, and on the other a space for the public, who will receive best quality screenings, having the opportunity to come into contact with the elements behind the screen.

L'Associazione Persona organizza CLUJ SHORTS, International Short Film Festival, il primo festival di cortometraggio in Transilvania. Organizzato ogni anno nei mesi primaverili, il festival desidera aprire la stagione culturale di Cluj, indirizzandosi direttamente agli appassionati di cortometraggio: registi o produttori di film e pubblico amante del cinema. Con l'organizzare un festival dedicato esclusivamente a questa categoria dell'arte cinematografica, vogliamo creare da una parte uno spazio organizzato all'esprimere competizione e cambio d'esperienza, e da un'altra parte uno spazio destinato al pubblico, cui offrire  per visionare delle opere cinematografiche della miglior qualità, avendo nello stesso tempo l'opportunità di entrare in contatto con gli elementi dietro allo schermo.




Foto 1In 2013, CLUJ SHORTS has hosted films from all around the world (Europe, Asia, North America, Central America, South America, Australia, New Zeelenda, Africa).

The festival completed its multiculturality with different genres: fiction, drama, comedy, animation, documentary and experimental films. The jury had to award seven trophies, having to choose between "very good and very good".

Nel 2013 il festival ha ospitato film di tutto il mondo (Europa, Asia, America, Australia, Africa).    Il  multiculturalismo che è stato dimostrato in quest'edizione di CLUJ SHORTS è stato  completato della diversità dei tipi di cortometraggi proiettati: fiction, dramma, commedia, animazione, documentari e film sperimentali. La giuria, formata di specialisti in ambito della cinematografia, ha segnalato per premiare 7 film  dovendo scegliere tra "molto buono e molto buono".

CLUJ SHORTS is part of  "Cluj-Napoca, European Youth Capital " organized by enthusiastic volunteers with experience in organizing such events. We are eager to contribute to the diversity of Cluj-Napoca's cultural scene, supporting the youth involvement in the community's  social events.

CLUJ SHORTS si integra anche nel concetto "Cluj- Napoca- "La capitale Europea della gioventù", essendo organizzato dai giovani volontari entusiasti con esperienza nell'organizzazione di questi tipi di eventi,con la voglia di contribuire alla diversificazione delle manifestazioni culturali di Cluj e di portare all'attenzione della società la necessità e i benefici del coinvolgimento dei giovani nella vita attiva della comunità.

Cluj Shorts 2014  will take place between  March 27 – 30, and  the call for entries will be open all through October and November 2013.foto 2

Nel 2014, CLUJ SHORTS si svolgerà dal 27 al 30 di marzo e le inscrizioni dei film nel festival si faranno nel periodo ottobre-novembre 2013.

www.clujshorts.ro
https://www.facebook.com/ClujShorts
Contact Info: Anca Andreea Pop – CLUJ SHORTS  International Relations  Manager
E-mail : asociatia.persona.cluj@gmail.com
Tel : +40 751 193 840