Programma 2018
Art On Paper_VideoArt Contest
Martedì,17 aprile ore 18.00| galleria Art...On paper, Paradiso| Durante questa giornata di OtherMovie, oltre da visitare mostra in corso di Carolina Maria Nazar "Oblivion" si terrà la proiezione delle opere dei diciotto finalisti del concorso internazionale di videoarte 2018, alla presenza del curatore Roberto Mucchiut e di qualche autore.
04/04/2018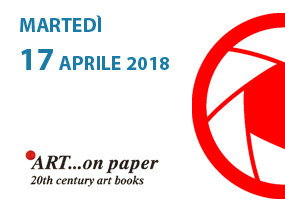 Finalisti Concorso VideoArt Contest OtherMovie Lugano Film Festival 2018
1. Darkness di Inese Tikmane e Laima Vainina, Lettonia
2. Self-portrait di Kostas Makrinos, Grecia
3. A lot of things don't, don't really exist anymore di Stella Meris, Germania
4. The Castaway of Dawn di Blas Payri, Spagna
5. Halfway di Rand Beiruty, Germania
6. Jungle di Marie Reber, Svizzera
7. Katagami di Michael Lyons, Canada, Regno Unito e Giappone
8. Daydream di Arjang Omrani, Grecia
9. Parasitic Endeavours di Simon Christoph Krenn, Austria
10. 165708 di Josephine Massarella, Canada
11. In focus memories di Danilo Torre, Italia
12. Pools di Stephan Zirwes, Germania
13. Story 2: Scenes 1-9 di Zlatko Cosic, Stati Uniti
14. Blows With The Wind di Hazhir As'adi, Iran
15. Mouldy Memories di Edina Csüllög,Anti Naulainen e Helen Unt, Estonia
16. Mare lente di Mattia Biondi, Italia
17. Travel Notebooks: Kardzhali, Bulgaria di Silvia De Gennaro, Italia
18. Stretching of Daily Life di Nenad Nedeljkov, Serbia
Ospite speciale: Gaston Dupuy, regista, produttore e video artista (Svezia/Svizzera)
Consegna PREMI: Menzione speciale della giuria per Miglior Video Artista OtherMovie Video Art Contest 2018.